IPark Inc., established in 1970 in Ottawa, is one of North America's leading parking management companies, operating 2600 parking facilities with 550,000 parking spaces in 34 cities across Canada and the US.
iPark is owned by Canadian Private Equity, a strategic relationship of the Bank.
The Bank is being asked to join an existing club deal of 2 existing banks and one other new bank, with financing being increased from US$150 million to US$300 million to facilitate the purchase of Congressional Parking Systems (CPS), a US-based firm that will further increase iPark's US footprint. CPS is expected to be the latest in a long line of successful acquisitions for iPark. The purchase price is US$170 million, financed by the US$150 million term loan increase and by Canadian Private Equity, which will be injecting the US$20 million balance.
CPS owns Gulfpark, a Subsidiary with non-recourse debt. Gulfpark will not guarantee this loan and will be sold post-acquisition.
A US$40 million revolver is provided, though the Bank will only be part of the term loan. Security is pari passu with the term loan.
iPark focuses on urban parking lots, CPS focuses on speciality lots (airports, hospitals, hotels).
Business Operations
iPark Inc. does not own the lots but manages the operations. 80% of revenue is derived from management contracts, where all costs are born by the lot owners and IPark receives a negotiated fee for its service, regardless of parking volume, and 20% is derived from lease contracts, where IPark pays a fixed monthly fee to the owner and received revenue directly from parking volume.
These contracts are recorded on the balance sheet as intangibles and valued based on future contracted revenue streams.
iPark has a well-established client base, with a 92-95% contract renewal rate. Management contract relationships average ~8.2 years while lease contract relationships average ~13 years.
Demand for parking spaces is somewhat inelastic (location is key) but generally positively correlated with economic health and inversely correlated with gas prices.
Request
The Bank is being asked to provide a loan for US$75 million secured 5-year club deal term loan to the Borrower, with upstream and downstream guarantees. Canadian Private Equity will not be providing a guarantee.
New Proposed Facility
The term loan is repaid quarterly, with moderate repayments in early years and a balloon repayment at maturity, as follows: (year 1: 2.5%; years 2, 3, and 4: 5%; year 5: 7.5% and 75% at maturity).
Financial covenants (commencing in 2019):

Funded debt/EBITDA: < 5.50x in 2019, dropping to 5.25x in 2020, 4.75x in 2021, 4.50x thereafter
Fixed Charge Coverage: > 1.25X throughout
First ranking security interest in substantially all material assets of the Borrower and Guarantors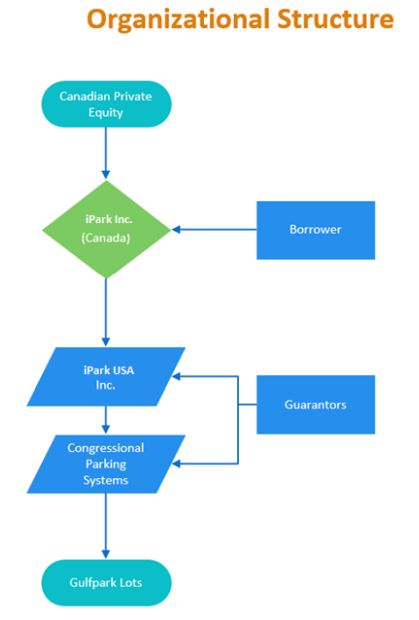 Questions
Based on the presented information, would you extend the loan as requested?
What is the main credit risk you see?
Based on the attached definitions, please provide a rating and rationale for this company. Is this investment or non-investment grade?