Scholars such as Kolb (1986) and Watson (2008) perceive that reflective practice includes a learning cycle. Kolb (1986) presents this in the following way. The learning cycle starts with experience, followed sequentially by reflection, theory, and experimentation. After experimentation, the experience could be further improved and then the cycle continues through the same process, as illustrated in Figure 1.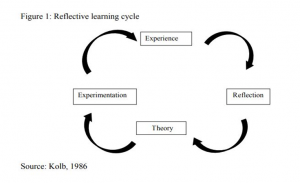 Like Kolb, Watson (2008: 23) suggests the following sequence in relation to the reflective learning cycle: You do something You think about it You draw conclusions from the experience You plan how you can do it better You do it better … Watson (2008) proposes two further basic questions: 'What have I learned from that activity and what am I going to do as a result?' These questions, he suggests, form the basis of reflective thinking. Other scholars such as Rolfe, Freshwater and Jasper (2001) propose three basic questions to guide reflective learning, along the lines of 'What? So what? Now what?' Such questions could also contribute to developing individuals to acquire the skills for reflective learning and with practice, they could become effective reflective practitioners.
Use the above background information on reflective thinking when doing this assignment.
Your reflective writing can be chosen from any one of these educational planning issues in your educational context such as School Strategic Planning, School Improvement Planning, and School Development Planning. Use the following guideline to present your written reflection:
Explain briefly the educational planning issue chosen.
Discuss why the issue is important.
Discuss the best practices advocated in the international literature in relation to the chosen educational planning issue.
What suggestions can you make based on the international literature to address the issue and enhance educational development and transformational change in your context.